HANNA CRM systemTime to get organised
Hanna is a tool designed for a more organised management of the sales, projects, customer service and other processes. Hanna modules correspond to the most important processes in your business and allow you to manage them easily and conveniently in one place.
These companies run their business with Hanna:
You control the processes.
Hanna helps make it more convenient

Everything in one place
See a full history of customer interactions, team assignments and their status, and other important information. Hanna can be easily integrated with external systems (e-mail, telephony, accounting, etc.)
Perfectly suitable for sellers
Automation of templates, e-mails and reminders will not allow you to forget any potentials customers.
The works displayed on the Kanban board and their reports allow to see the general sales situation in the company in real time.
Module capacities
Hanna has the tools to manage every step of the project and the tasks associated with it: from registration of a first inquiry of a new customer, assignment to a seller, contract and performance of work to invoicing.
Easy to use
Hanna is being constantly improved to make it easy and intuitive to use. In addition, the main language of the Hanna system is Lithuanian. All information used, assistance and consultations are provided in Lithuanian.
Learn about Hanna's features
From customer data to organisation of sales
Planning, offering customer services?
Hanna is designed for you.
We know that business results depend solely on your work, while it is Hanna's job to provide you with the right tools for a simple, convenient and structured work where the most important information is always at hand.
Find out how Hanna is tailored to your area of activities.
Hanna is a recognised business partner. Give it a try!
Hanna is a professional and modern CRM assistant for your business. Its priorities are to streamline and digitize the company's processes, to make work easier for every employee. Customer testimonials confirm this!
Read More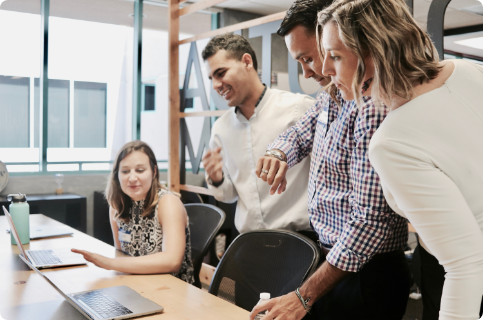 All success stories
Find out how Hanna solutions help companies like yours to manage their processes in a more convenient and organiser manner. Could we be creating another success story together?
We have different selling channels and Hanna CRM helps integrate different departments for better customer support. Great advantages are click to call function and integration with email. Customers' support are open for new ideas for functionality, usability, also, solve issues very fast.

Hanna CRM system is already integrated with few ERP systems,so it was easy to start using it. Compatible with all types of phones, so all functionality is able to reach using smartphone. Integration with field service management system Tasker gave possibility to improve our service activity.

Hanna CRM system is very user friendly. It has all the tools to optimize your business process. The system has great project management possibilities, also a lot of useful reports. With this CRM you can control all your business processes because of basic integration with third part systems.

Ready to start? See how the beginning looks in Hanna business management system
---
Try Hanna
Simple pricing
The pricing of Hanna's business management system is based on the principle of a monthly subscription and depends on the number of workplaces. We offer simple and number-based pricing.
---
See the prices